HEDYCHIUM
Archive entry 22.10.23
Hedychium is a large genus that attracts a large and obsessive horticultural following. I am one of them. Run, flee, save yourselves. The species also cross pollinate freely, and a wide variety of hybrids have been developed in cultivation or found growing in the wild. The wild species are often interfertile, but from time to time they decline to co-operate.
In the open ground in the UK they often fail to flower. The evergreen varieties in particular require a longer growing season than is usual here. Developing flower buds in October or November are killed by cold weather.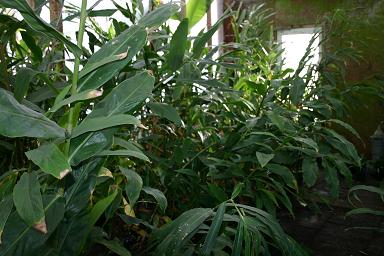 This is my Hedychium house, a large greenhouse on the south wall of my house. Most of my Hedychiums are grown here at some stage during the year. The deciduous species are stacked in here for the winter, and spend the summer in a poly tunnel. The tropical species spend the summer in here, and the winter on my windowsills. The greenhouse is already overfull, and as the plants expand, the problems increase.
Sooner or later a new greenhouse will be needed.

One consequence of having a lot of plants crammed into a tiny greenhouse in the winter, is that I do not have as many pictures of plants in flower as I would like. I could copy other people's photos, but you could use a search engine and find them for yourself as easily, so instead I am settling for the option of adding my own poor photo's of leaves and stems where I have nothing better to offer. Think of them less as informative or attractive, and more as a way of filling space while the plants come up to flower! Thanks for your patience.
For more information, a wonderful and informative book on hardy gingers has just been published:
'Hardy Gingers, including Hedychium, Roscoea and Zingiber.' by T.M.E.Branney, Royal Horticultural Society Plant Collector Guide , Published by Timber Press, 2005.
The most excellent source of information online is Dave Skinners marvellous site, well worth a look. Le Jardin Ombrage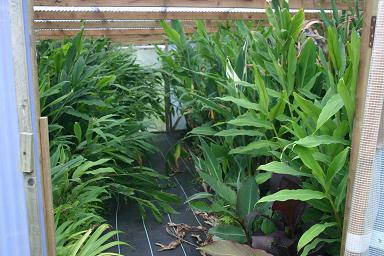 Once the plants outgrew the space in the conservatory, a new greenhouse had to be found, and this was home during 2006/7, but this greenhouse is only a bit over six feet tall, and the Hedychium had no intention of staying that small. This picture taken at the end of July 2007 shows them pushing at the roof.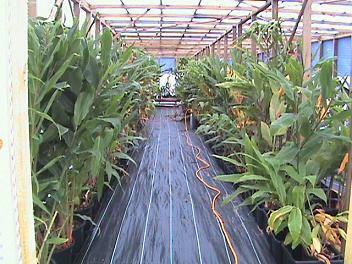 At the very last moment in September 2007 I finally finished the new Hedychium house and moved the plants in, where they are appreciating the extra head room! By the end of the first season Hedychium maximum and Hedychium stenopetalum had both reached the roof, but it looks like the height will be sufficient.


References:
Branney, T.M.E., Hardy Gingers. Royal Horticultural Society Plant Collector Guide. Timber Press 2005.
Le Jardin Ombrage