JEARRARD'S HERBAL
Thats enough introduction - on with the plants!
To navigate this site, use the links above, or the detailed links at the bottom of this page.
... out in the garden.
Rather a busy week, but full of odds and ends and cleaning up jobs, so it feels like nothing has been done. Sarracenia seed is now mostly harvested. I'm spending the time in the evenings cleaning and sorting it. Helleborus seed was finally sown. It should have been done in June but I kept putting it off to do more urgent things. I am sure it will be fine. If it isn't I expect I will sulk about it! It is the strangest time of the year. The summer exotica (Canna, Colocasia etc) are all working up to a crescendo. They all suffered in the dull rainy summer and are working hard to catch up. The autumn flowers are in full swing - Hedychium are all looking good. Cyclamen hederifolium is in full flower now under the trees but no room to show pictures this week. The low autumn light comes sweeping under the tree canopies and has become the main performer. Nerine are in full flower. Spring has also started to appear. There is no space to show it all this week, but the Hellebores are producing plenty of premature flowers, plenty of spring bulbs are in leaf, the autumn cherry is in full bloom. I was in Wisley yesterday on a flying visit, and they have a large clump of autumn snowdrops looking fabulous outside the new alpine house (it's a pretty enough thing, but the old one had so much character that it will take a while to get used to its crappy modernity).
So much good stuff, it is difficult to know what to include this week. Plenty of stuff to store up for the long weeks of winter.
14th October 2007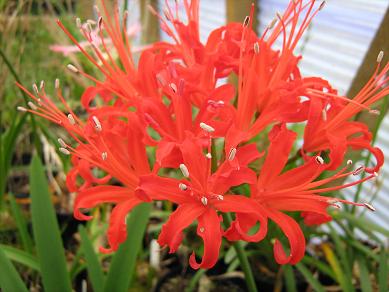 Nerine sarniensis .
I bought this (really cheaply) as a pre-pack from a dutch wholesaler, as 'Mother of Pearl', a really wonderful white cultivar. I had hoped that the wholesale bulb market had finally become reliable, but it seems not. (Is that enough grumpiness about it?) What I got was this perfect but ordinary Nerine sarniensis in the sort of colour it is impossible to overlook. I think it is wonderful and invigorating and I was looking at the white cultivars at Wisley, and I think I prefer this, but I am still a bit grumpy about it!




14th October 2007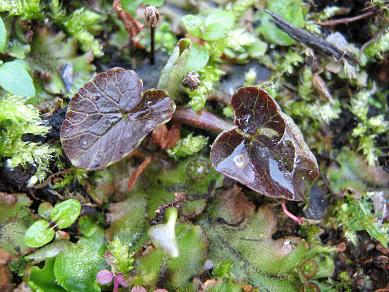 Ranunculus ficaria 'Coppernob' .
Among other little jobs that I got to this week was weeding through the Celandine collection, thinking that I could get it all clear before the new seasons growth began. Once I started, it soon became clear that I had already missed the bus. Last year was a difficult year for them - I moved them all to a new bed, and they were promptly defoliated by a hungry pigeon. Flower buds were pulled off throughout the spring , then the dry weather ended the season prematurely, and I was worried that the wet summer would finish some of them off. The new growth is very welcome, and spring is nearly with us.




14th October 2007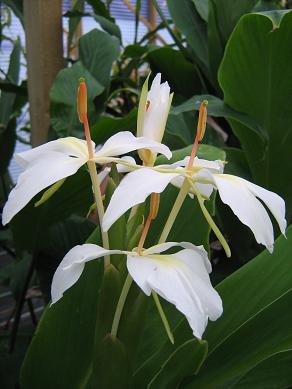 Hedychium 'Luna Moth' .
Over the last few years I have been increasingly impressed by this cultivar. It is small growing (about four feet) with large white flowers produced reliably before the cold weather sets in. Great leaves in regular ranks - it has become a favourite.




14th October 2007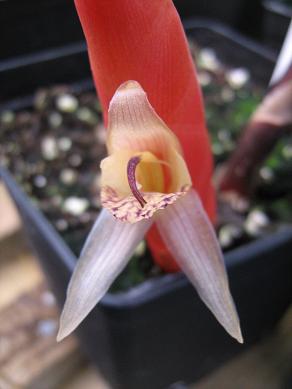 Zingiber collinsii 'Silver Streaks' .
Last year this produced a single stem of leaves, and this year it has repeated the achievement and added a flower spike. Very satisfactory. I don't think it stands a chance of being hardy Iin spite of the optimistic views of some commentators) but dries off in the winter and stores easily.





To find particular groups of plants I grow, click on the genus name in the table above. Click on the "Index" box at the top of the page for the full list.
I have a lot of good intentions when it comes to updating this site, and I try to keep a note about what is going on, if you are interested.
If you want to contact me, the address is infoMONKEYjohnjearrard.co.uk
When typing the address in, please replace MONKEY with the more traditional @ symbol! I apologise for the tiresome performance involved, but I am getting too much spam from automated systems as a result of having an address on the front page.