JEARRARD'S HERBAL
Thats enough introduction - on with the plants!
To navigate this site, use the links above, or the detailed links at the bottom of this page.
... out in the garden.
It has been a week of big things. That might seem like a fairly vague category, but that's the way it has been.At the start of the week, big machines in the garden digging big holes, dumper trucks full of rock and the like (barn repairs). Friday was big rocks day - technically, granite quoins and a lintel for a new window opening in the back of the barn. I had all the pieces required - it's just that they were being used for something else at the time! Digging them out is easy, moving them (straight through the middle of the conservatory) was not. It involved a lot of pushing and straining on rollers made from old broom handles, and a certain amount of swearing. Thanks to Marcus, for putting up with me saying specific things like "No, not that one, that one! Push it the other way." The week ended with a big digger - sizing up the next job (level some paths, cut some new terraces, knock down my old workshop...lots of volunteers for that job!) Among the plants, it has all been little things - I'm sure it hasn't really, but it feels like it
30th september 2007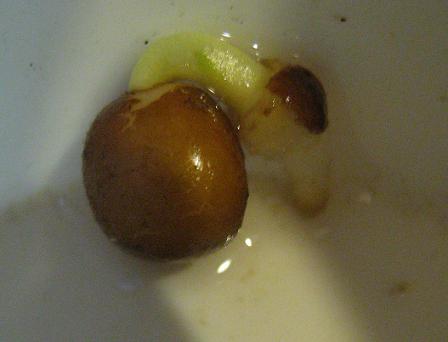 Cryptostephanus vansonii .
It may not seem very interesting, but it has been sitting on my desk for a few weeks now, and I am as happy as a dog with two tails. Cryptostephanus is a close relative of Clivia. I bought a single seed about a month ago on e-bay (hurrah for e-bay). £2. I could have had more, but I get a bit nervous about spending money on single seeds! I have been faffing around trying to decide where to plant it, so I left it in a yoghurt pot on my desk with a little bit of water, and it has germinated. (Not really a surprise, the fleshy seeded Amaryllids are very obliging). Now it will need to be kept warm and cosy through the winter. Eventually it should have umbels of pale pink flowers from a plant like a small Clivia. I'm so impatient - I want it to be tomorrow!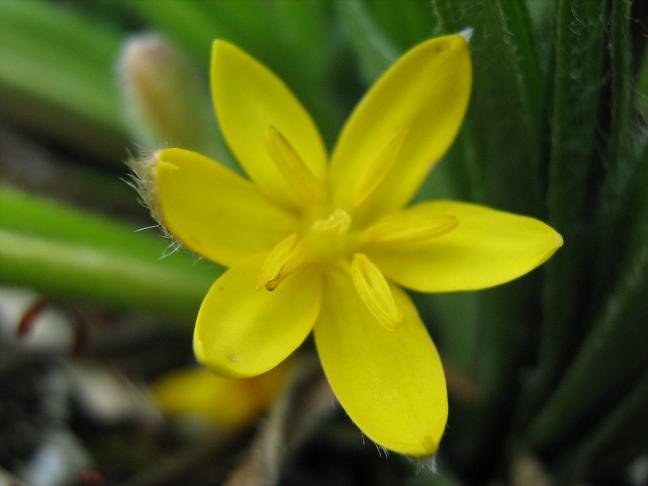 Hypoxis hirsuta .
A super little plant. I got it from Bob Brown at Cotswold Garden Flowers in early spring and it has flowered on and off ever since. This latest flush of flowers was a surprise - the Rhodohypoxis have pretty much finished, but it is very welcome. I had meant to see if I could hybridise the two groups but somehow I never got myself organised. Maybe next year.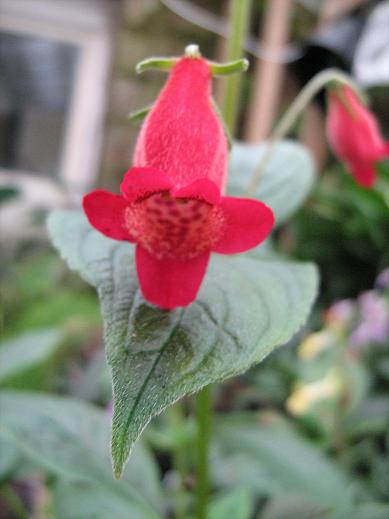 Gloxinia 'Chic' .
This is one of a small group of Gloxinia that are being trialled for hardiness. They succeed well in some in some of the southern states of the USA. It has grown and flowered for me in a cold greenhouse. Startling red flowers. It may need to be lifted and kept dry through the winter.




30th September 2007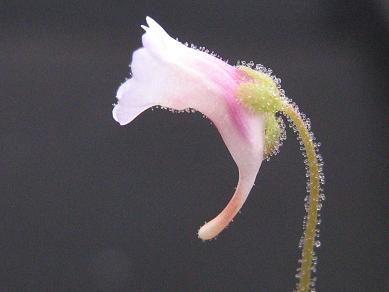 Pinguicula lusitanica .
I have grown this pretty little native carnivorous plant for 30 years, on and off! It is a short lived annual, takes about three months to come into flower from seed in summer. Small rosettes usually overwinter safely. I still haven't managed to photograph the plant very well, but maybe a few more years practise. I have also had a number of slimy expeditions into assorted bogs over the years to find it in the wild, and I have yet to succeed. Most recently, I waded around in a sedge bog for a couple of hours this summer, on my way to a social event, where people very kindly overlooked the mud and the rather strange smell!
Maybe next year.





To find particular groups of plants I grow, click on the genus name in the table above. Click on the "Index" box at the top of the page for the full list.
I have a lot of good intentions when it comes to updating this site, and I try to keep a note about what is going on, if you are interested.
If you want to contact me, the address is infoMONKEYjohnjearrard.co.uk
When typing the address in, please replace MONKEY with the more traditional @ symbol! I apologise for the tiresome performance involved, but I am getting too much spam from automated systems as a result of having an address on the front page.