JEARRARD'S HERBAL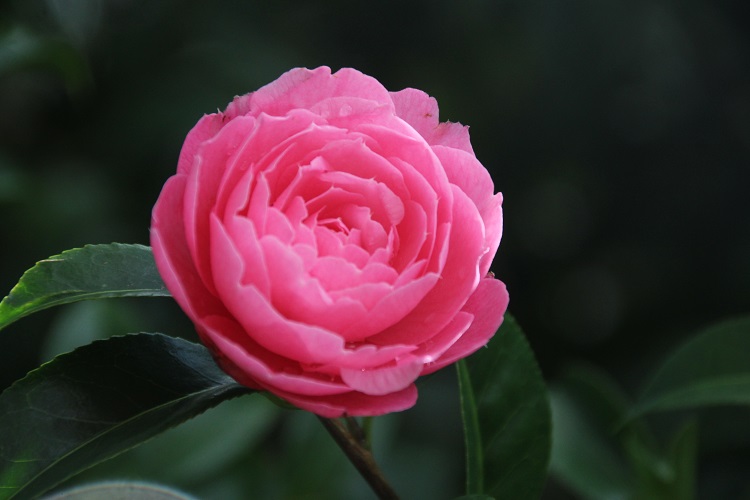 28th February 2021
Camellia 'China Lady'
The bright spring weather has continued all week and the garden is rushing ahead. Springtime has a simple, practical memory that sometimes defeats my own. To put it more simply, shoots pop up and I have no idea what they are. Slowly they resolve into plants and I say to myself "Oh yes, I remember now". It is a constant surprise. Throughout the garden I keep finding little groups of Crocus tommasinianus. I haven't planted any since the 1980's, when I accepted the simple truth that the rabbits loved them as much as I did. Corms were planted, flowered and never seen again. Or at least I thought they were never seen again. Recent appearances suggest that I shouldn't give up, they are just a bit slow to establish. My plants are all 'Barr's Purple' and 'Whitewell Purple', which don't seed around, so I must add some forms that will.
Camellia 'China Lady' is another memory lapse. I have been watching the buds develop with anxiety, worried that when they open and I will have to work out what it is. I know it is special, I have planted it somewhere special, but I couldn't remember the name. I didn't like the idea of rummaging around at the base looking for a label in a mud-bath (to coin a phrase). Fortunately past pictures identified it easily. Strange how I remembered the name again as soon as I had found it.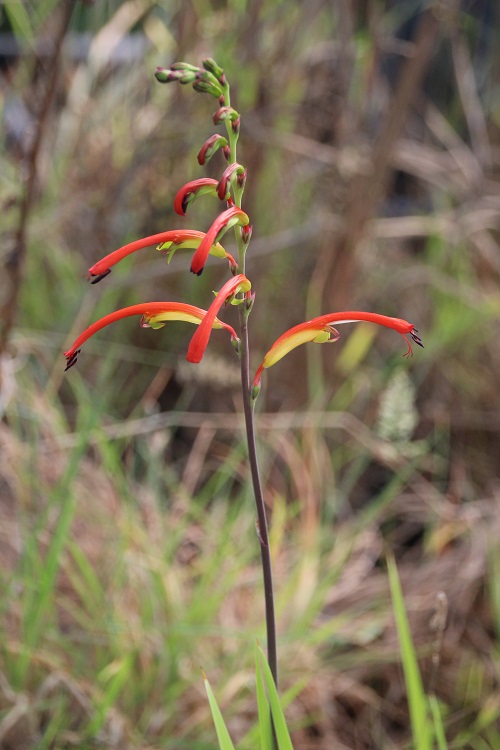 28th February 2021
Chasmanthe aethiopica .
Chasmanthe aethiopica comes into a quite different group. It is a relative of Crocosmia and so for a long time I felt a sort of duty to grow it. Unfortunately the plant didn't feel an equivalent duty to be grown, it has died repeatedly, assertively, almost determinedly wherever I have tried it. Not hardy, not very tolerant of shade, it has tested my ingenuity to find a suitable location either outdoors or in the greenhouse. The tested ingenuity has been found wanting.
This manifestation of the species is entirely accidental. It was left over at the end of a charity plant sale so I brought it home with me intending to pot it up, grow it for a few months and pass it on to the next charity sale. That wasn't the way of events, it remained on the bench in the greenhouse and has flowered. There are a couple of divisions on the clump now, one might be planted on the south wall of the house to see if it has relinquished its dismal death-wish or not.
It is a startling addition to the spring scene in the greenhouse where there is little else to see. The remaining Lachenalia are producing spikes and the early Pleione buds are developing but only Freesia viridis is in flower. It is wonderful, but it couldn't be called colour and that is what the garden is hungry for.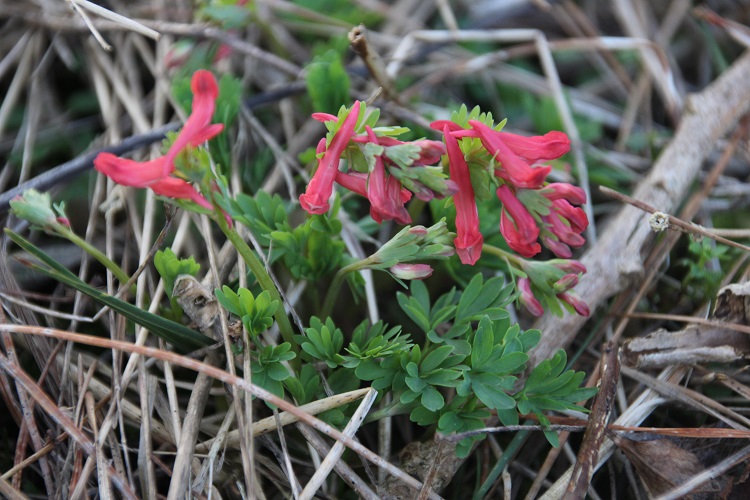 28th February 2021
Corydalis solida 'George Baker' .
Unexpected shoots fill the space under the trees. Some of them are Colchicum, thrusting up like green fingers through the leaf litter. They will produce broad, pleated leaves that always sound attractive but rarely are. Among them the Erythronium shoots have appeared this week. The leaves are wrapped around the shoot in a spiral shape and start to unfold as soon as they reach the surface, appearing to corkscrew out of the ground.
Down by the house I have a tub of Corydalis solida 'Beth Evans' planted to remind me that the shoots are emerging. I have tried them in a couple of places around the garden without obvious success so I planted some in a tub of almost pure gravel to be sure they were dry through the summer. They have just started to emerge and it sent me scurrying up to see if they had appeared under the trees. I have three red flowered forms up there, planted as a trial a decade ago and this year all three are up and flowering more strongly than they did last year It has surprised me how long it took for them to establish. It is particularly pleasing to see them because I planted another 50 tubers last summer. No sign of them yet but perhaps they will be good in a decade or so.
This is 'George Baker', there is also a 'Beth Evans' up there. The third is bright red and may well be 'Firecracker'. I know I planted it but (would you believe) I can't remember where.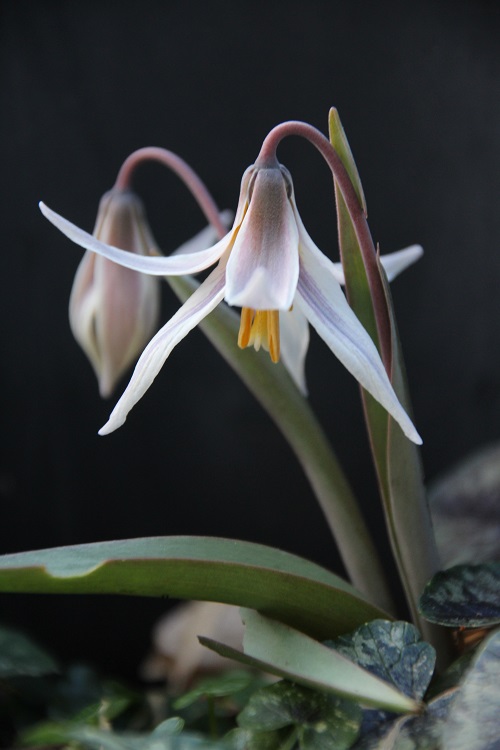 28th February 2021
Erythronium albidum .
The thrill of the woodland has been Erythronium dens-canis. It has been the least growable species of Erythronium for me, the larger species from the west coat of North America and their colourful and prolific hybrids have been much better. The space under the trees is filled with 'Pagoda' and I have been resisiting the urge to plant a mixture of others among them. I waver between wanting a powerful hit of a single colour and planting a rippling tide of pastel beauty. While fighting the urge to diversify I added a small group of E. dens-canis and in their third year they have started to flower and look established. I could well add more.
The passage of spring is showing on the snowdrops. They are looking tired. Even those late ones that are just reaching perfection have the appearance of yesterday's news. I like to think I have varieties that extend the season both at the beginning and the end, but it is those at the beginning that matter. The daffodils are up, the Erythronium are unscrewing between them, the thrill of snowdrops has faded into a distant winter madness.
Erythronium albidum has a similar colour and a similar poise to the snowdrops but it radiates warmth rather than icy intrigue. It is one of the smaller species from the eastern coast of North America. My single bulb has shown no signs of increase in a tub, perhaps it prefers more moisture. If I had two, the second would go under the trees to see if it would spread into the large clumps found in its natural habitat. I should buy some more. That was my conclusion last year as well.
So often in spring I find myself rushing around exploring new things, it is rather pleasant to spend time in my own garden having my memory gently jogged.