JEARRARD'S HERBAL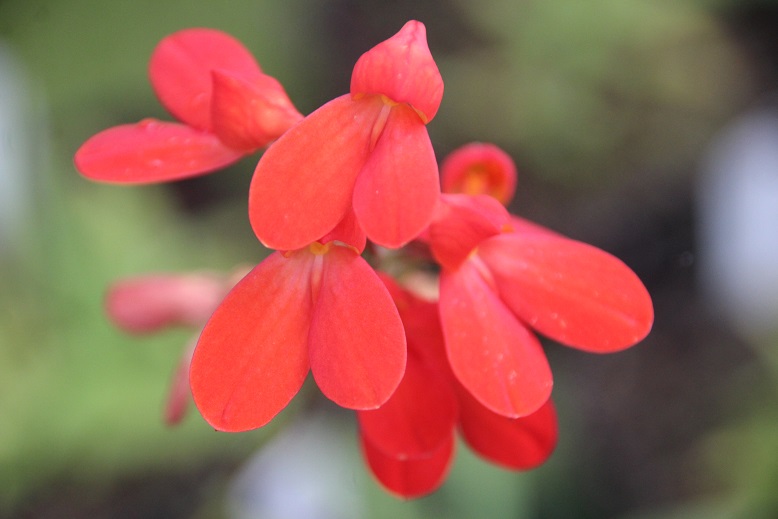 3rd September 2017
Disa cardinalis .
I stayed in bed this morning, safe in the certainty that it was pouring with rain. I checked the forecast before I went to bed and there was no doubt, it would be pouring with rain all morning. No reason to get out of bed, so I didn't. At least I didn't until I realised I couldn't actually hear any rain. I tried to blame it on sleepy hearing. I tried to pretend that I didn't care anyway and I tried to convince myself I had nothing better to do. Finally I got so uncomfortable about the situation I got up.
Looking through the bathroom window I saw the rain falling, steady and soundless. I don't know why it was a relief, but it was. Perhaps because it justifies a long slow breakfast.
Down in the greenhouse the Disa will have been thoroughly flushed through. They like clean clear water. I can't manage pure mountain stream water tumbling from the sides of Table Mountain but rainwater seems to meet the need. During the summer I worry as the water trays get murky with summer sludge. Sometimes a summer storm will flood the whole system, but this year has been one of steady drizzle. Enough to dilute the soup but not enough to clear it out. For me clean Disa trays has been one of the first signs of autumn.
Disa cardinalis is hanging on. It was one of the last to flower and I have been watching it attentively. I have grown it once before and it only lasted for a year before dying. I have a suspicion that water quality was the culprit. This is one of five seedlings I bought from a South African grower. This is the first to flower and the first time I have flowered the species. The "clone 2" tag records my optimism that there might be some slight variability.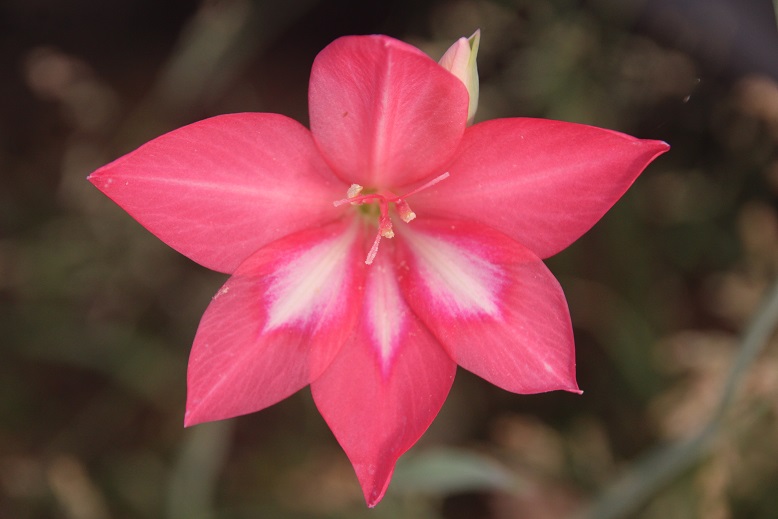 3rd September 2017
Gladiolus carmineus .
I have been looking at the space in the greenhouse and wondering what to do. There is a lost negative in there and it can go in a number of places. "I have not been looking at the space in the greenhouse " is my preferred obfuscation. The simple fact is that there isn't any space. The Gladiolus are looking particularly like pots of nothing filling space. Do I really need them? I think I do, but the arrival of a large pink flower from G. carmineus reinforced the point. Gladiolus produce flowers from nothing, just as everything (including hope) is fading. The winter growers do it just at that moment in spring when the season grinds to a halt in yellow. The summer growers wait until the end is nigh before announcing the start of the long, sunny South African winter.
We won't get a long sunny South African winter, but I am grateful for the announcement.
It is regarded as vulnerable in habitat, occurring only on a short section of rocky cliff in the Western Cape always within sight of the ocean. The habitat is thought to be secure but the risk of housing development is high.
It is a worldwide problem and I live in a glass house, so I'm not throwing stones. If I got residential planning permission on the greenhouse site there would be one less plant of Gladiolus carmineus in cultivation as well.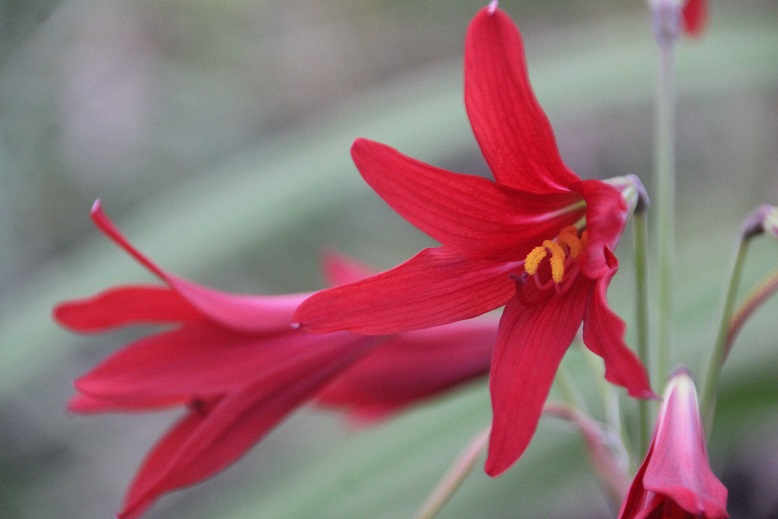 3rd September 2017
Rhodophiala 'Harry Hay' .
There are a lot of really beautiful members of the Amaryllidaceae around the world, some of them are major horticultural assets and some of them are not. I trawl through the family, as many have before and many will yet, searching for overlooked gems. There are many and the discovery of them is delightful, but generally they have been overlooked for a reason. I take great delight in the flowers from my Lycoris but at least half of the pleasure comes from the extreme unlikeliness of the event. In the last five years one of my plants has flowered reliably and leaves me chuckling like a toddler with a big ice-cream. If I look back over my cultivation history with the genus that works out as one year flowering in eight. It is the same statistic if I look at the plants. One pot flowering out of eight. So Lycoris are delightful but they should probably be overlooked.
Rhodophiala are much the same. Delightful relatives of Hippeastrum but smaller, daintier and hardier. Wonderful if you can ignore the fact that they never flower. I have similar decades of struggling leaves that were not leavened by flowers until I obtained 'Harry Hill' which seems prepared to flower when others will not. I still don't feel particularly confident, though it has produced an annual show for a few years now. A fortnight ago I nearly tipped it out of the pot to see if it was dead, there was certainly nothing to see from above.
Suddenly the flower spike emerged and I suspect that some leaves will follow, though I don't take anything for granted. Flowers won't last for more than a few days. I could stick some cut Hippeastrum blooms in the pot, they probably wouldn't wilt as fast. I sometimes think I am enjoying the futility of it all. The flowers won't produce seed, so perhaps the plant is as well.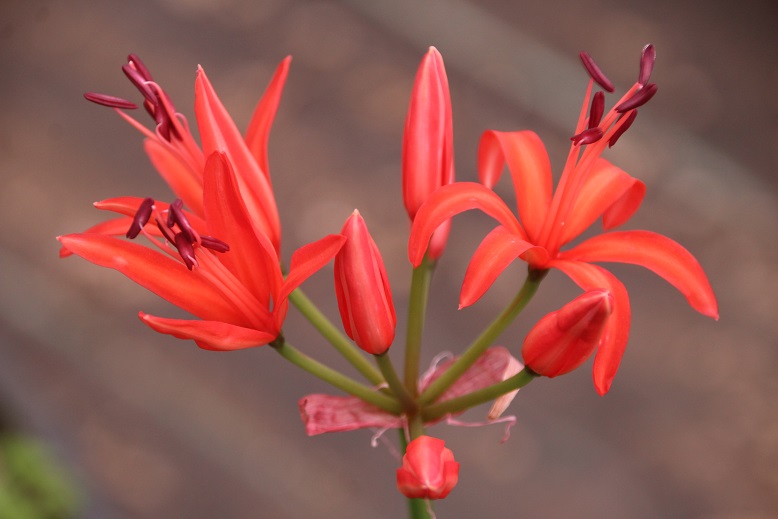 3rd September 2017
Nerine sarniensis var. curvifolia f. fothergillii .
Autumn wouldn't be autumn without the strident trumpets of Nerine. A couple of weeks ago I had the first flowers and the single spike looked ridiculous. Much loved but still ridiculous. Now the greenhouse is filled with the emerging buds and it is clear to see where I failed to control the mealy-bug last year. As the leaves die off in spring the mealy-bug force their way between them and down between the bulb scales where they sit sucking summer sap. The new growth in autumn shows the scars and I have been spot-treating to control them.
Among the many cultivars raised from N. sarniensis I would love to have a pot or two of the wild species from an identified location. Just a little reminder of the origin. I keep my eyes open in seed lists but I doubt I will find anything, selected cultivars are too popular.
N. sarniensis var. curvifolia f. fothergillii is the closest I will get. It is a complex name that relates to a wild collected plant. N. curvifolia was described in the Botanical Magazine around 1803, and it was later reduced in rank to a variety of N. sarniensis. N. fothergillii was described in 1847 and later recognised as being a form of N. sarniensis var. curvifolia. Through all the confusion, it is a wild collected plant maintained in cultivation, so I have what I wanted even if I don't have location details.
The situation is strengthened by modern botanists, who don't accept any of the 'twiddly bits' - this is just N. sarniensis plain and simple (no intraspecific taxa).