JEARRARD'S HERBAL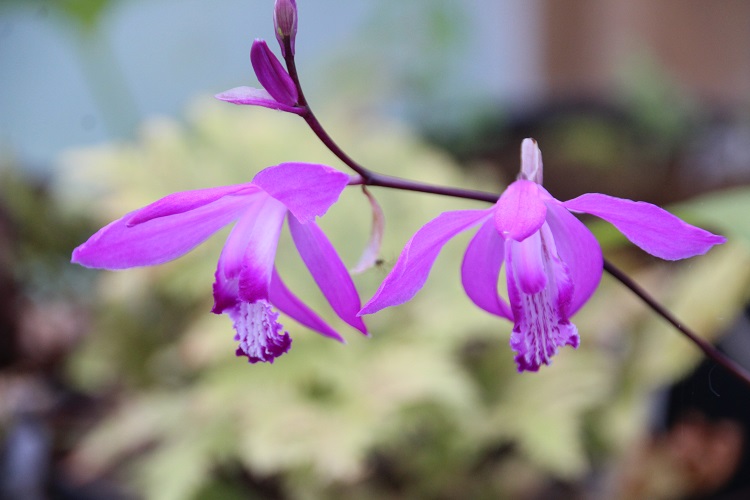 20th May 2018
Bletilla striata .
A little drop of rain but mostly there has been heat. The sort of heat that forced me to take my socks off as almost as soon as I had put them on. It is time to sort through the greenhouse and put everything outside that should be outside. I'm feeling good that I managed to plant three things in the garden, but it is getting a bit late. Anything planted now will have to be watered and there never seems to be enough time for that. After a cold winter I hesitate to plant some of the more tender things, but they have to go. The greenhouse is full of things reaching for the roof and it can't go on.
I also need to sort out the Bletilla. I am stupidly fond of the tiresome Japanese orchids but they aren't so fond of me. Every time I think I understand their needs they start to sulk. The latest position, in the warm end of the greenhouse, hasn't suited them and I can't ignore the fact any more. The only plants growing well are in the alpine house, and that is where the rest will have to go. The alpines can shove up a bit.
This B. striata is the first to flower, growing in a hydroponic bed where it is always moist. It may be that I am keeping them all too dry. To prosper in the garden they need the warmest position available and I may have mistakenly linked the need for warmth and dryness. It is one of those rare occasions when pictures of the plant growing in habitat might be useful.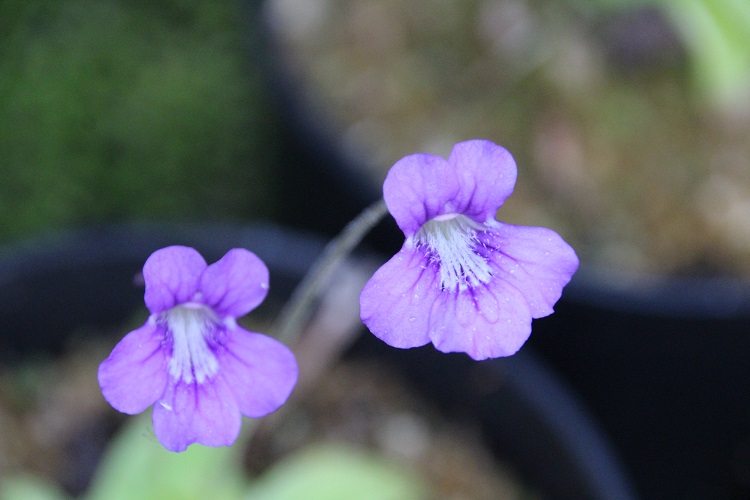 20th May 2018
Pinguicula grandiflora .
Pinguicula grandiflora is easier to understand, it likes it wet. The water beds in the greenhouse suit it very well and seedlings grow very easily. I have hybrids with P. vallisneriifolia and P. longifolia growing next to it and it has become difficult to sort out the identity of the seedlings. I won't be able to make sense of it now, so I have moved the largest flowered away to form a group of their own. They aren't prettier than the species but they are more noteworthy.
Although often listed as a native of the UK the various floras are less convinced. I have a friend who is certain he has seen it growing in the south west but I have trudged through a few bogs over the years and never seen a sign. Plants were naturalised in Cornwall once but their decline and final extinction by 1930 is recorded. To find genuinely wild plants you have to travel to the southwest of Ireland or into France.
Strangely I don't have any growing outside in the garden, though it is perfectly hardy. I have a giant bog-pot full of Venus Fly traps that should suit it very well but it has sprung a leak and isn't reliably moist during the summer. The Fly Traps don't seem to mind but the Pinguicula would object. It's on the list of things to fix that I haven't got to yet.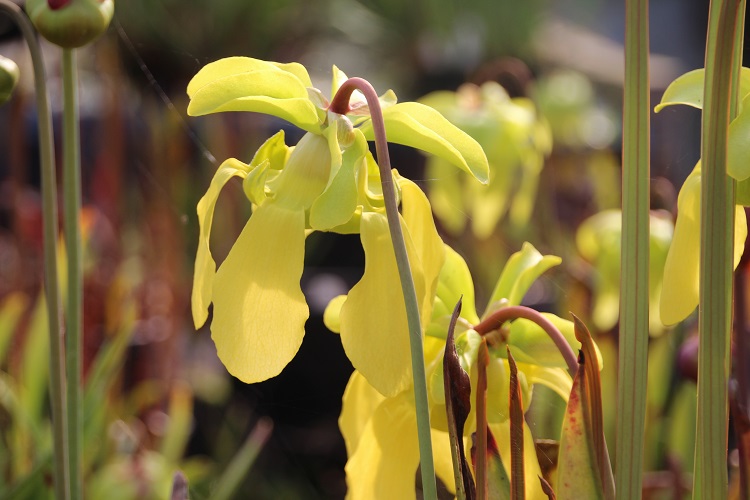 20th May 2018
Sarracenia flava F-270-IS .
Deep in the cold mid-winter I clean up the Sarracenia for the year. It is a dull job but I find that if I take a radio with me it takes much longer (I get distracted very easily). Once the job is done I tend to walk away from the Sarracenia beds with a sense of relief. Nothing more needed for a few months. I note the flower buds as they emerge, but it isn't until they start to flower that I creep back between the rows to enjoy them. For a few weeks the greenhouse shines with yellow flowers in the afternoon sun.
I say yellow because two years ago I gave away two thirds of the collection. I kept the S. flava forms because they grow well and I enjoy them, and I kept all of the hybrids that I like. More significantly, I rejected all of those I didn't. Most importantly I created enough space to repot all those plants that needed it. I created the space, but I didn't create the time and my job for this afternoon is to get back to it. I won't make much of a dent but perhaps I can help out the most desperate cases, those that have already burst their pots or have become so unstable that they fall over.
A good name will enhance the repuation of a plant. Ficaria verna 'Brazen Hussy' would not have sold so well if it had been called 'Brown Blob'. Unfortunately there are a lot of Sarracenia clones in circulation and not very many good names. Thus we have to content ourselves with the tarnished romance of alpha-numeric codes to distinguish them.
F-270-IS came from Ian Salter in Wales. It has a large flower, the pedicel has an attractive flash of reddish-brown as it bends over to support the hanging flower. The leaves are described as "dappled orange", a description that restores a measure of romance to the more pedestrian reality.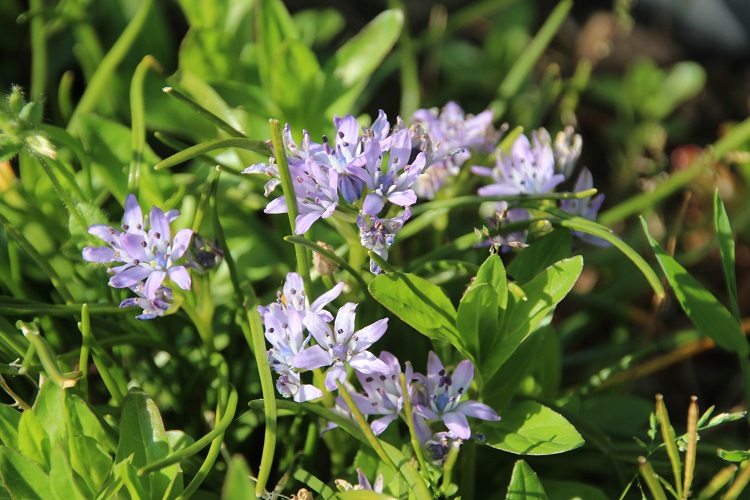 20th May 2018
Scilla verna .
It is the romance that animates this little greyish tuffet. This diminutive Scilla is always described as blue, and it isn't a lie but you would need a stern constitution to say it while standing next to a Forget-me-not. Calling it a Spring Squill seems to fit somehow. In places along the coast it carpets the cliff tops in great undulating waves to match the sea below. Neither are actually blue though both will be called it. The Squill gets closer than the ocean is likely to manage around the coast of Cornwall.
I grow it among the snowdrops where the weeds can be controlled and I don't worry about the name, Scilla don't seem to care so why should the rest of us. The Spring Squill flowers long after spring has passed and the Autumn Squill will flower long before the first touch of autumn. There may be as little as six weeks between them, the season of squilllessness. The rest of us call it summer.
A decade ago the genus Scilla was tearing itself apart into a multitude of new fragments. I have a special file for all the Scilla I grow and I thought I was going to have to abandon it and rename them all. Now the process is reversing. All the little Squills are returning home to roost and the genus is fattening up again.
So I have a little patch of Spring Squill sheltered by a band of trees and it whispers John Masefield to me - I must go down to the sea again, to the lonely sea and the sky. I must. I must sit among the thronging hordes and drink synthetic cappuccino from the beach cafe.
The boundaries of Scilla change. Things change.